Biologist and extreme angler, Jeremy Wade, is on the hunt for freshwater fish with a taste for human flesh.  Jeremy travels the globe risking life and limb, to investigate freshwater mysteries and uncover the truth about the dark secrets of our planet's rivers.
"Jeremy Wade captures the magic of angling in a way that few others have managed to do on television.  His programmes are gripping and transport viewers to beautiful, wild locations to see him doing battle with some of the most weird and wonderful fish that swim.  This must be the reason that the shows appeal to non-anglers as well as to experts.  I am sure that Jeremy, who is an Angling Trust Ambassador, has inspired countless people to get out of their armchairs and to go and discover the joys of catching fish.  We may not have fish that kill people in this country, but there is some really exciting sport to be had in our many rivers, lakes, canals and coastal waters."
Mark Lloyd, Chief Executive, Angling Trust, Dec 2013.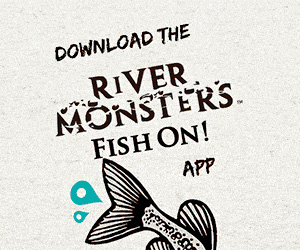 Like us on River Monsters Global Facebook  and follow us on River Monsters Twitter.
Don't miss new uploads of clips & original content posted every Tues & Thurs on the River Monsters YouTube channel  
Check out our River Monsters Merchandise at River Monsters TV